Quelle Qu'un veins de marcher sur ma tombe
---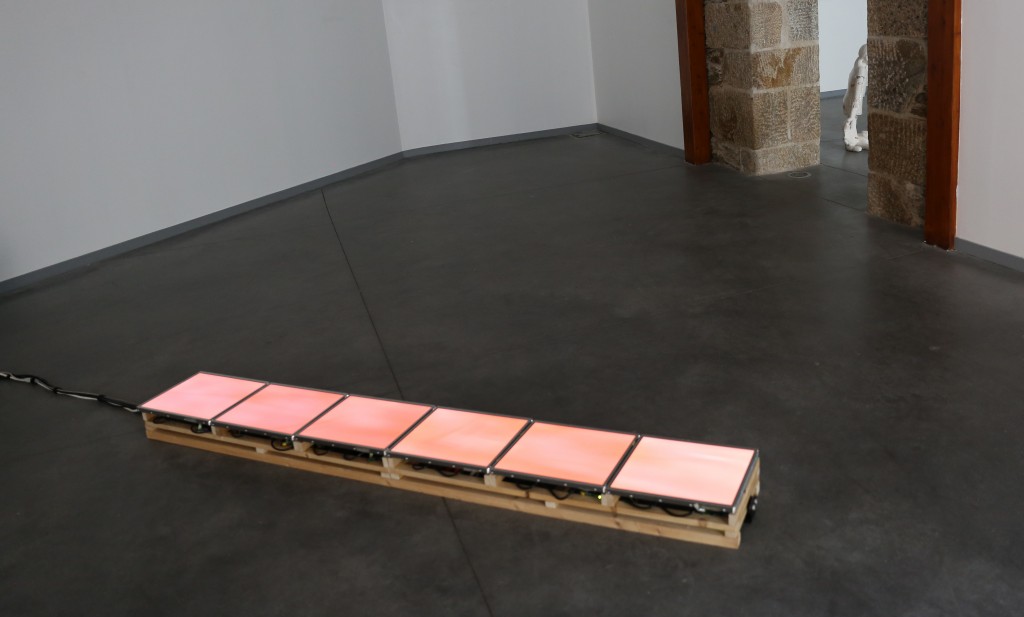 video mapping of flesh, VLF and field recording, 6 recycled PC screens, 1 PC, arduino, wood, cables
---
Interactive video installation
Quelle Qu'un veins de marcher sur ma tombe – came about through a combination of exploring various sites with VLF (very low frequency) recordings and electromagnetics statics captured through radio antenna, such as such as an electrical storm, recordings of wires captured through telephones poles and the spirit.
Quelle qu'un viens de marcher sur ma tombe, is an old english expression "someone just walked over my grave" often utter when a chill is felt in the spine. It has its origins in the middle ages, when ones plot was already mapped out in the local village graveyard – hence they often already knew the location of their final resting place, the notion of someone walking over it was ever present and the effect felt through shivers down the spine. A time when the divide between life and death was perhaps more ambiguous and communication with the dead commonplace.
a special thanks to Romain Papion for his technical help
---
Julien Ottavi and Jenny Pickett began collaborating in 2008 with a large work called Digital Debris which was a kind of tearing up of the obsolete pc's and imacs being thrown out at that time and reworking those with realtime mash-ups of audio we scrapped off the internet. They have since worked together on many projects ranging from interactive art installations, video art and performances to contemporary music projects. They are members of the arts research lab APO33 founded in 1997, as well as curating the Plateforme Intermédia, a space for exhibiting digital, sound and intermedia arts since 2011, which is situated at the heart of Nantes Creative district.
Recent exhibitions :
TAIPEI BIENNALE, TAIPEI FINE ARTS MUSEUM, TAIWAN ­ 2018 / VOGUES, FORT DE VILLÈS ­MARTIN , ST NAZAIRE 2018 / HAPPY CUBE DAY, LE CUBE, PARIS 2017, PD CONFÉRENCE UNIVERSITÉ DE NEW YORK CITY (US) 2017 / NEON FESTIVAL, DUNDEE (UK) ­2017, STWRT24, ARS ELECTRONICA, LINZ (AT) 2017