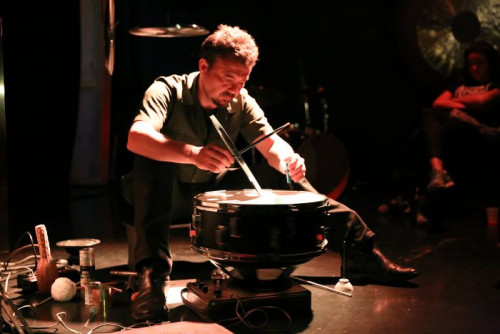 Pur Signal
Le procédé "Pur Signal" consiste en une orchestration en direct de jeux de sources microphoniques de type piézoélectrique, installés sur des machines rotatives et des tourne-disques modifiés. Les rotations des machines assurent
la linéarité des signaux et des boucles. Le son non numérique. La puissance des signaux sans limites nécessite un contrôle et une modération. Les rotations mécaniques génèrent des boucles qui sont subtilement différentes les unes des autres, bien que similaires en apparence, en raison de l'entraînement par courroie. L'irrégularité presque imperceptible des tours donne un son singulièrement aléatoire à chaque boucle.
Un son singulièrement aléatoire à chaque boucle, provoquant un état de calme parmi le public.
Les signaux résultent des chocs, des frictions, des vibrations et des champs magnétiques captés par les microphones Piezo directement connectés à deux tables de mixage. Une orchestration spontanée est jouée depuis ces tables en utilisant des signaux purs. Les signaux purs sont envoyés au système de sonorisation. La puissance des haut-parleurs, la complexité de leur projection sonore, la massivité des basses, participent à l'orchestration finale de Pur Signal.
l'orchestration finale en Pur Signal. La performance peut être jouée sur des systèmes stéréo ou quadriphoniques.
ou quadriphoniques".
Gabriel Vogel
Installé à Nantes depuis 2000, Gabriel Vogel est un artiste sonore, batteur et peintre. Il explore le champ musical de manière méticuleuse. Il enregistre, façonne et crée ses pièces sonores comme un sculpteur. Le mouvement est important, la précision indispensable, l'imagination au rendez-vous. Il conçoit également ses propres instruments, construits à partir d'éléments recyclés, recyclés de manière sonore.
Une percussion automatique, un nouvel instrument qui invite à se laisser aller. A se perdre toujours plus se perdre toujours plus profondément dans les nuances de lumière des matériaux. Et à écouter, encore et encore, le frottement, le tintement, le battement du métal contre le métal.
---
English
Pur Signal
'Pur Signal' process consists of live orchestrations of sets of Piezo, pickup-type microphone sources,
installed on rotating machines and modified record players. The rotations of the machines provide
linearity of signals and loops. Non-digital sound. The power of signals without limits requires control and
moderation. Mechanical rotations generate loops that are subtly different from each other, although
similar in appearance, due to belt drive. The almost imperceptible irregularity of the turns results in a
singularly random sound at each loop, provoking a state of calm amongst the audience.
The signals result from shocks, friction, vibrations and magnetic fields picked up by the Piezo
microphones, directly connected to two mixing desks. Spontaneous orchestration is played from these
tables using pure signal. Pure signals are sent to the sound system. The power of the speakers, the
intricate nature of their sound projection, the massiveness of the bass, all participate in the final
orchestration in Pur Signal. The performance can be played on either stereo or on quadraphonic
systems"
Gabriel Vogel
Based in Nantes since 2000, Gabriel Vogel is a sound artist, drummer and painter. He explores the
musical field in a meticulous way. He records, shapes and creates his sound pieces like a sculptor. The
movement is important, the precision indispensable, the imagination at the rendez-vous. He also designs
his own instruments, built from recycled elements, recycled in a sonorous way.
An automatic percussion, a new instrument that invites you to let yourself go. To lose oneself ever more
deeply in the shades of light of the materials. And to listen, again and again, to the rubbing, the tinkling,
the beating of metal against metal.