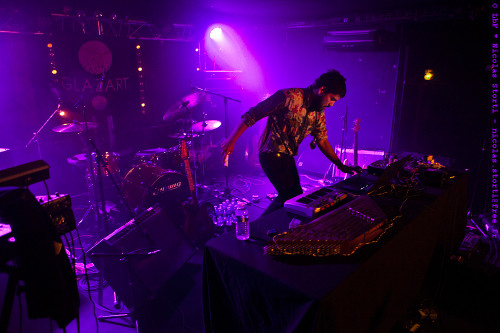 Retrouvez "HASSAN K." lors de la soirée Electronoise du Samedi 28 Août.
HASSAN K. est un franco-iranien basé à Lille qui prône le mélange des styles et des genres pour en faire une fusion musicale expérimentale. Défenseur de la culture libre et open source, il mêle folklore et nouvelles technologies, occident et Orient, surf music et bellydance, swing, noise et métal dans des arrangements voués à la transe. Ce multi-instrumentiste est autant un artiste électro, trad, rock que world où l'Inde, la culture arabo-musulmane et les influences pop se frictionnent.
---
Discover "HASSAN K." during the Electronoise evening on Saturday 28 August.
HASSAN K. is a Franco-Iranian based in Lille who advocates the mixing of styles and genres to make an experimental musical fusion. Defender of free and open source culture, he mixes folklore and new technologies, West and East, surf music and bellydance, swing, noise and metal in trance-like arrangements. This multi-instrumentalist is as much an electro, trad, rock and world artist where India, Arab-Muslim culture and pop influences rub shoulders.