Demie-vie
---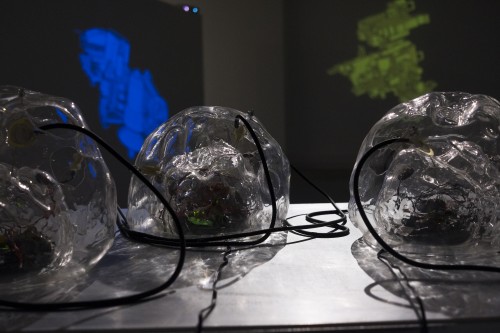 "Demie-vie" is an installation made in collaboration with a French glassmaker (ARCAMGLASS).
The blowing of the glass, in application on mechanical parts, allowed to form these bells, these incubators, these cockpits with defective electronic objects …
The circuits, from contemporary gadgets, are placed in the glass and maintained in "Demie-vie" by a program that controls their sounds, to keep the most melancholy dimension.
For each glass piece, the sound is diffused through the material and is then re-captured by three contact mics placed outside and re-broadcast by the loudspeaker located further away.
From this speaker emanates a tiny sound, between the feedback and the last breath of the fragile object: obsolescent.
The entire installation evokes a science-fiction scene where the artist's intervention returns, through the sound experience, to a quasi-medical gesture. As a kind of machine assistance in danger, the process keeps the machine artificially in "Demie-vie".